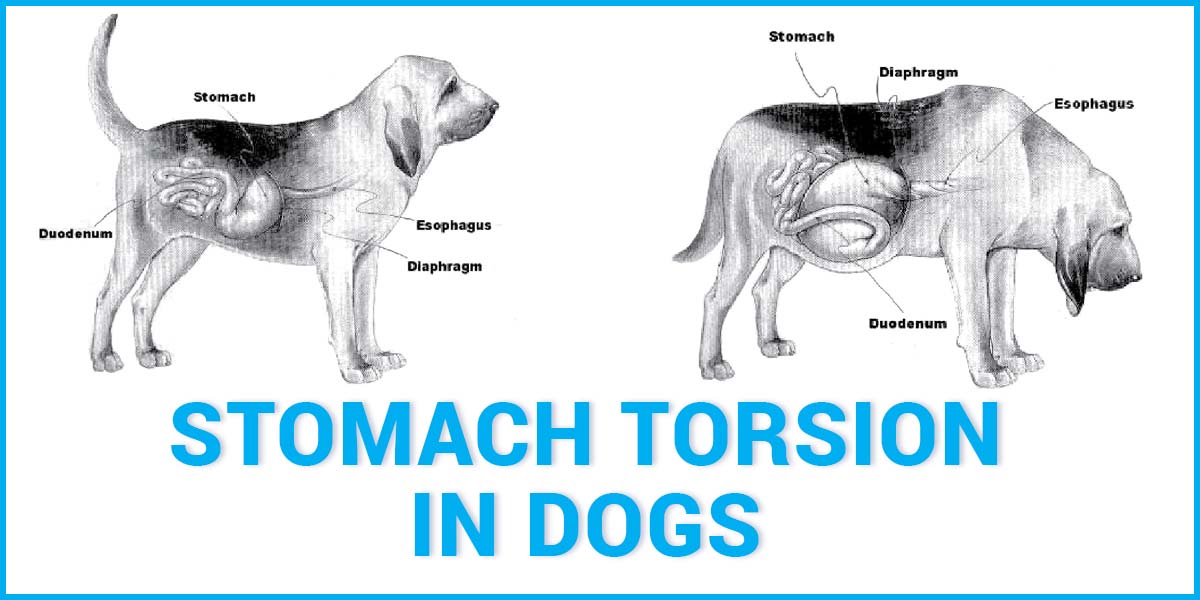 Dobermanns are at high risk of stomach torsion (also known as bloat or gastric dilation volvulus). If you suspect your dog has a bloat – take him to the emergency immediately. Stomach torsion considers to be a hereditary issue, but there are preventative measures you can take to reduce the risk of stomach torsion in your dog.
My dog had stomach torsion and had a surgery. He fully recovered. Read my experience how bloat happened with my dog in the article Bloat in Dobermanns.
What is stomach torsion (gastric dilation volvulus) in dogs?
Bloat is when a dog's stomach fills up with gas and air. But it gets life-threatening when it also flips on itself and causes stomach torsion. Once rotated, the gas is unable to escape and continues to build up.
Stomach is like a bag hanging between esophagus (from the mouth) and duodenum (intestines). Trapped gas continues to expand, distending stomach like a balloon, which eventually leads to stomach rupture. When stomach twists – it cuts blood circulation – which is why it's a life-threatening condition. Blood flow to abdominal organs stops and flow back to the dog's heart is greatly reduced. This can begin to happen as quickly as half an hour or a couple of hours after the twist.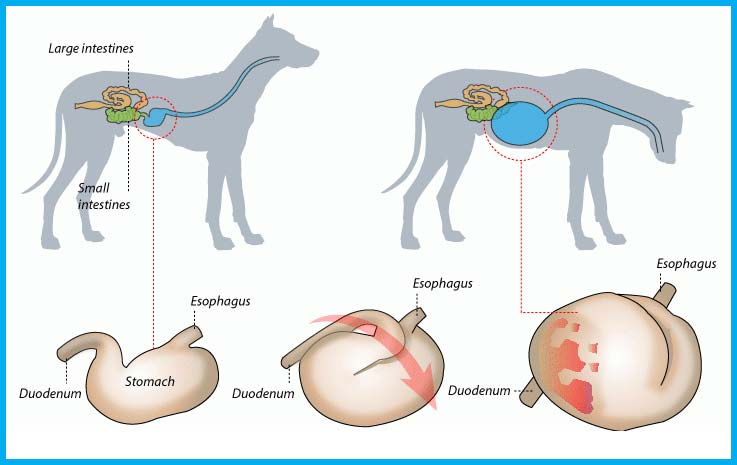 Typical signs and symptoms of stomach bloat in dogs.
The dog is noticeably in great distress.
The dog is noticeably in great distress.
Rapid change in behavior.
Might try to vomit, but nothing comes out.
Restless, can't find a place to settle.
Pale gums and/or lower eye leads (due to reduced blood circulation).
Intense abdominal pain makes the dog sensitive to touch.
Distending stomach that noticeably enlarges with time.
What to do when you dog has stomach torsion.
If you're unsure if it's simply bloat or bloat with stomach torsion, you should still take immediate action and get your dog to a vet. Only X-ray can show if there is a stomach twist. A dog with a simple bloat can expel excess air through burping or vomiting. A dog with stomach torsion – can't.
Stomach torsion is a life-threatening and time sensitive condition. Take your dog to the emergency immediately. When at the clinic – don't wait in line. Go straight to the front desk and tell them you suspect stomach torsion in your dog.
It's a good practice to have nearest emergency clinic information handy at all times. The clinic must have an X-ray machine and a veterinary surgeon on duty in order to address this dangerous and time-sensitive matter.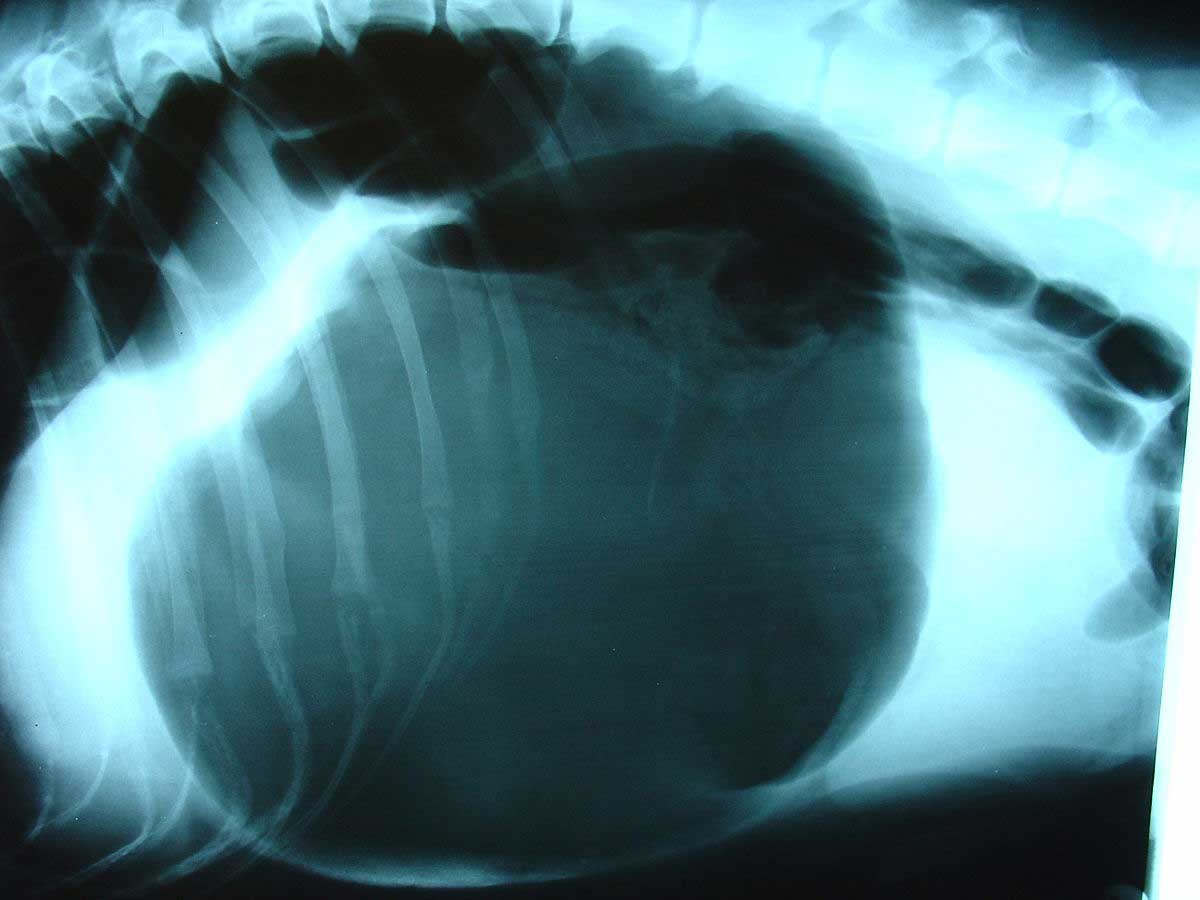 What to expect at the clinic.
Immediately upon arrival to the clinic they should do an X-ray. If it confirms stomach torsion diagnosis, they will also need to run some additional tests to confirm that the dog can survive a surgery. Usually they do blood tests and EKG, which confirms dog's overall condition, and heart condition.
Before the surgery they will attach an IV line to your dog's front leg to supply medications. If the dog is healthy to sustain a surgery, they will administer anesthesia to fully sedate the dog. Usually at that point the stomach is pretty distended. The vet will have to relieve the pressure by inserting a needle into the dog's stomach (through the side wall) to let air escape.
During the surgery they make an incision approximately from the dog's belly button till diaphragm, rotate the stomach to the correct position, and then stitch it to one side wall (called gastropexy) to prevent from twisting again in the future. Given that there are no complications (no necrosis of the tissue or organs), surgery usually takes about an hour.
When they untwist the stomach – blood circulation is re-established, that can cause adverse reaction in some cases. It can affect inner organs and/or heart. Vets usually keep the dog at the hospital for a couple of days to monitor vital signs to ensure proper recovery.
In California, in 2016 a torsion surgery without complications cost from $3,000 to $5,000 (including couple of overnight stays at the hospital).
A dog with a stomach torsion will die without the surgery. Surgery is the only way to attempt to save your dog's life.  
What is prognosis for stomach torsion surgery.
Study shows that the majority of dogs who undergo surgery for bloat survive. Especially if dealt with in a timely manner. Stitching stomach to the side wall significantly reduces re-occurrence. If you suspect bloat in your dog – don't delay! Take your dog to the emergency immediately.
Is stomach torsion a hereditary issue?
Stomach torsion most commonly occurs in large-breed and deep-chested dogs – Dobermann is one of them. Currently, researchers believe that bloat is most likely linked to a dog's size and conformation, among other factors. The ligaments that hold the dog's stomach in place might be too loose, or contractions responsible for the digestion of food too slow (causing food to remain in stomach longer, causing gas).
One is certain that dogs who have ancestors or siblings who had bloat – are at a higher risk to develop bloat. When buying a puppy, aside from reviewing health tests for known hereditary diseases for both parents, make sure to ask if there is a history of bloat in the pedigree. Majority of modern Dobermans have ancestors that bloated. You can't avoid it. But it helps to plan ahead when buying a puppy.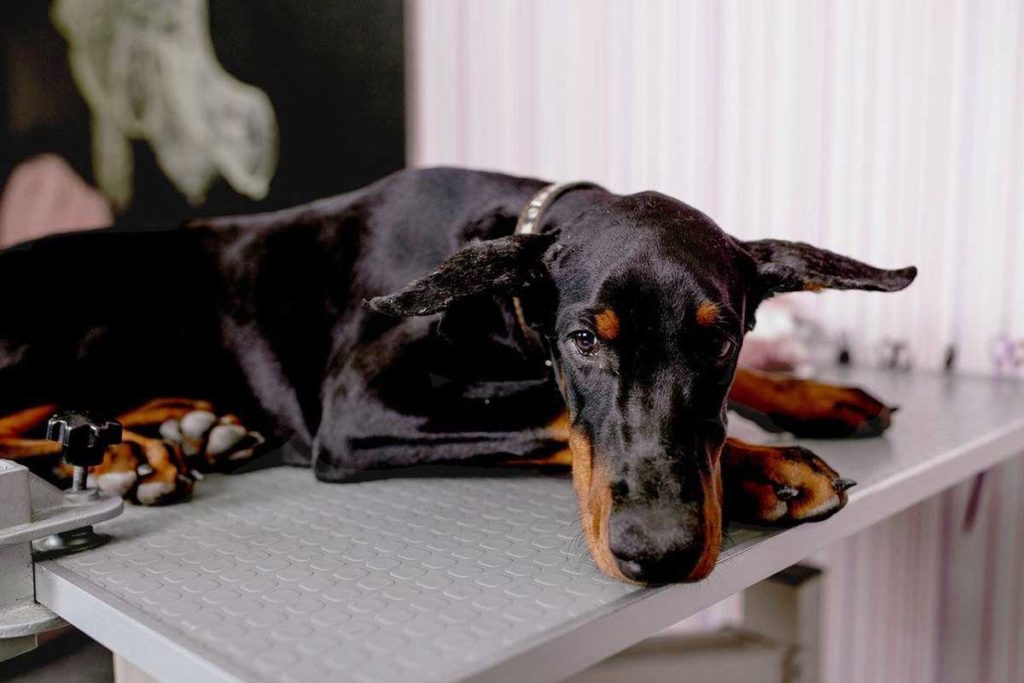 What to do to prevent bloat in dogs.
No exercise before or after a meal.
You won't go to a gym on a full stomach, would you? And you probably won't eat right after running on a treadmill for half an hour either. Dogs are no different, and it is up to you to reinforce this cautious behavior.

Dobermanns are high energy dogs (read A day in the life with a European Doberman). Do not give any food to your dog at least 30 minutes after activities. Let your dog's heart rate to go down and wait till breathing is normal before each feeding.

Do not exercise your dog for 1 hour after a meal. If your dog is highly active and likes to run a lot – then withhold activities for 2 hours after each meal. Let the food get a bit digested, so the dog is not running around with a full stomach.

No gulping.
If your dog is a gulper – purchase anti-gulping bowls. They have a divider in the middle that forces a dog to lick food rather than gulping it. There are variety of anti-gulping bowls to choose from that would work with kind of food you give to your dog. But they all have the same purpose – to slow down meal consumption. If you feed raw diet and your dog doesn't chew well – cut meat into smaller pieces or grind it.  

If your dog tends to drink water fast – also use anti-gulping bowl for water.
No water after activities.
The only way for a dog to cool itself down after an activity is to drink water. And we've all seen a dog with a mouth covered in foam and drools after running, who impatiently devours water from a bowl. You can't deny water to a dog that needs to cool down, but you can control consumption.

Don't offer water to a dog that just stopped running. Walk your dog off on a leash after every activity to help it calm down. The same as you would do at the gym after a workout, or the same they do with horses after riding. Dogs need the same routine. When dog's breathing begins to calm down – give small amount of water to force your dog to lick it from the bowl, rather than gulp it. Wait 5 minutes or so, give small amount of water again, if needed. But preferably – wait until the dog's breathing is almost back to normal.

On hot days after exercising it is good to use cooling pads to help dog's body cool down. Or let your dog lick ice instead of drinking water (as long as he doesn't gulp it).
Avoid feeding large meals.
Eating large meals at each meal, or eating just one meal a day puts your dog at risk of bloat. It is advised to feed smaller portion but more often during the day. Two feedings a day is sufficient for normal adult dog. But if your dog is skinny and you need to feed it more to put weight, it is better to feed more frequently to keep meal size smaller.

No kibble as primary diet.
Highly processed and ground food that turns into a slimy porridge soon after it reaches the stomach causes stomach muscles to become weak over time. Genetically dogs are built to digest carcasses of prey. When feeding processed food muscles don't need to work as hard to work on it.

In addition, processed food are more likely to cause gas build-up due to how it is constructed. Kibble is very dry, which causes the dog to drink water. When combined with water in the stomach it creates gas. Gas causes bloat. Not to mention that even a small portion of dry kibble triples in size inside the stomach creating a large heavy meal that you should avoid.

If you feed your dog kibble and are tired of reading about how bad it is for your dog – drop a few pieces of kibble in water and watch how it bubbles. Inside the stomach these bubbles are trapped, causing gas.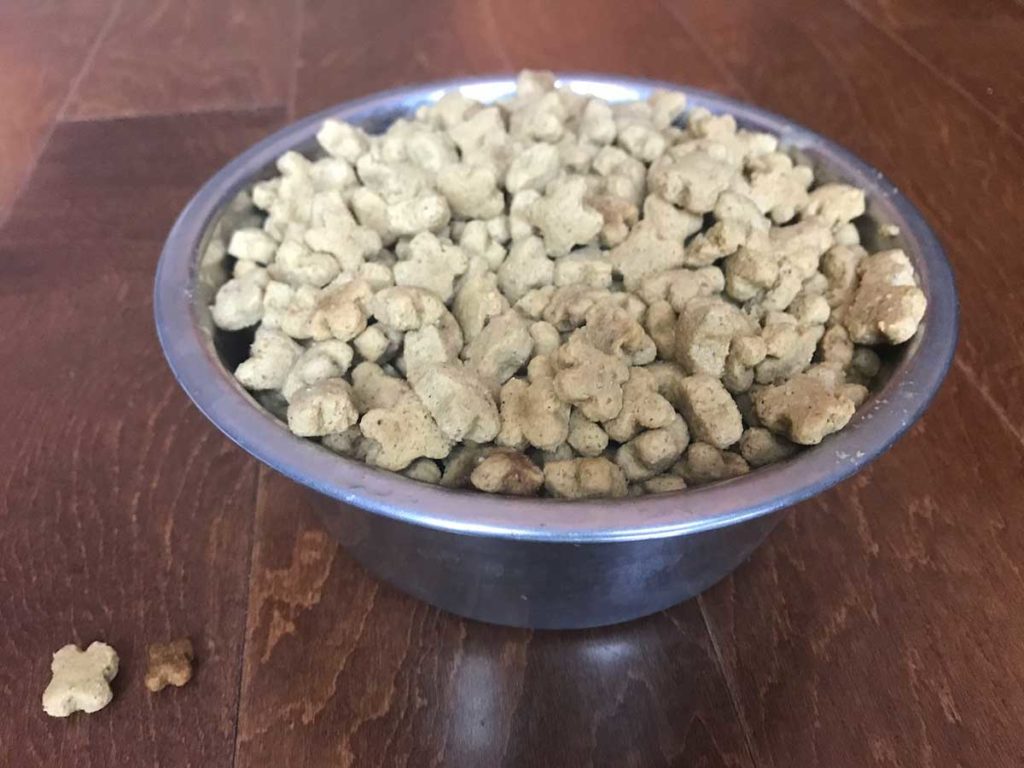 The causes of bloat are not really understood. Hence, there is no way to definitively prevent bloat or GDV from occurring.
References: