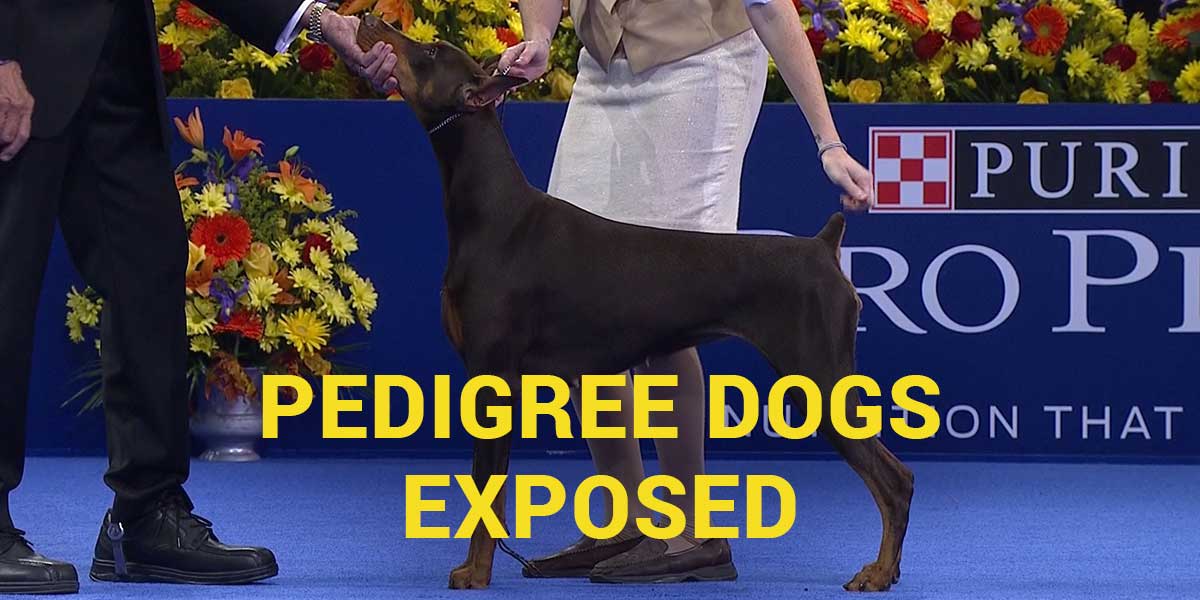 With the airing of Pedigree Dogs Exposed, a 2008 BBC documentary about the world of pedigree dog breeding and showing, the prevalence of inherited disorders, health and welfare of pedigree dogs has been widely discussed among scientists and veterinarians. Yet ­– despite all the efforts – the health and longevity in purebred dogs continue to decline, breeders continue to deny any evidence presented by veterinarians and scientists, and majority of prospective puppy buyers remain completely unaware of this chaos happening in the dog world.
In this article I wanted to share some excerpts from several studies on welfare of purebred dogs hoping to shed some light on the role we – dog owner (consumers) – play in the breeder-owner relationship.
If you've never watched the BBC documentary Pedigree Dogs Exposed – I highly recommend it. It's eye opening and provides an evidence-based insight into the dog industry that we – owners – usually are unaware of. While the film doesn't mention the Dobermann breed, it questions the welfare of all pedigree dogs, taking the magnitude of the problem to a different level. The filmmakers did a good job telling the stories of the dog owners, who encountered health issues in their beloved pets, and how they've been bullied and ridiculed by breeders and breed clubs for speaking up. The film unveils core reasons – breed clubs and beauty shows – behind purebred dogs suffering.
There have been a number of similar documentaries released since Pedigree Dogs Exposed have been aired in 2008. I'd like to point out one more that is worth watching – The Purebred Crisis: Deforming dogs in the name of fashion – about the Australian Kennel Club. This particular film focuses on the life-limiting deformities in bulldogs. On my opinion the filmmakers made a particularly good job demonstrating the level of denial and self-importance that dominates among show breeders.
Information below is focused on the UK purebred dog population simply because I was able to find variety of research and scientific articles for this population (see the list of referenced at the bottom).
The UK Kennel Club officially recognizes 215 breeds. The 20 most popular dog breeds account for 72% of total registrations with the UK Kennel Club. There are 396 inherited disorders currently identified in purebred dogs. Many breeds have reached the point at which successfully breeding away from affected individuals at a population-wide scale will require new genomic selection strategies.
Historically, many breeds have passed through significant genetic bottlenecks due to a high level of inbreeding which increases the level of homozygosity for detrimental alleles and is known to be a significant causative factor in the number of inherited disorders in specific breeds.
Kennel clubs' limited record keeping, lack of transparency in the breeding, corruption in the showing world, and the absence of sufficient research, means that the full extent of the problem is difficult to assess.
Breeding practices and efforts by breed societies and kennel clubs, to date, have been ineffective at protecting the welfare of many breeds of domestic dog. In fact, there is a good example that a breed is more likely to thrive if it's disassociated from a kennel club and popular shows.
Jack Russell Terrier shows extensive admixture and very low levels of inbreeding. Why? The Jack Russell was not recognized as a breed by the UK Kennel Club until 2016. This gave freedom to UK Jack Russell breeders to use a broader pool of potential mates for their animals. Why? Because it simply avoids the restrictions of breeding only show winning dogs, and bottlenecks associated with this, maximizing genetic diversity within the breed.
Dogs suffering from genetic illness are not prevented from competing in dog shows and have gone on to win "best in breed", despite their poor health. Show winning dogs are often in high demand for breeding, despite their health problems. In many cases – the health issues are not even disclosed or simply lied about in order to make profit. In European Dobermann the list of such examples is very long and would involve every single mass-producing Dobermann kennel that you can see promoting puppies on social media. The ethics among breeders are so low, it is known that some breeders would continue to sell frozen semen from dogs diseased from a hereditary issue and already known to produce diseased progeny. There are numerous examples how kennels with healthy lines and good longevity were wiped out by popular but affected dogs that passed dominant genetic issues (read more about Doberman Genetic Diseases).
Other problems occur because of exaggerations bred into dogs by breeders trying to win rosettes. Deliberate mating of dogs which are close relatives is a common practice. Scientists at Imperial College, London, recently found that pugs in the UK are so inbred that although there are 10,000 of them, it is the equivalent of just 50 distinct individuals. Steve Jones, professor of genetics at University College London, said: "People are carrying out breeding which would be first of all entirely illegal in humans and secondly is absolutely insane from the point of view of the health of the animals. "In some breeds they are paying a terrible price in genetic disease."
And nothing has been done by purebred organizations and Doberman clubs to prevent affected dogs from breeding and to protect Doberman population. Below is the chart from a public database that indicates the average age at which dogs die from DCM/sudden deaths. We now see more and more deaths at the age of 2 years old or younger.
There is a great article by The Guardian columnist Michele Hanson in response to 2016 Crufts show (Crufts is the largest dog show in the UK). The article attacks poor breeding practices and show winning criteria that lead to mass production of deformed dogs with inherited health issues. (Read more about Doberman Breeding Practices).
The vast majority of pedigree dogs will never appear in a show, many are bred by breeders who are aspiring to produce show-winning animals and whose surplus dogs are sold to us – dog owners. Potential pet owners often choose to purchase a pedigree registered dog as they see this as an indication of the quality of the dog. While in reality – we pay a top price for very inbred left-overs with high probably for poor health. Therefore, decisions made by a minority of breeders have considerable repercussions for the pet-owning public.
At DobermanBlog we advocate for ethical breeding practices that produce puppies from healthier lines to ensure that the Dobermann breed has a healthy future. We collaborate with small-scale breeders who share our philosophy. Our team researches the lineage of a prospective litter to ensure the pedigree has healthy, long-lived ancestors and lower inbreeding level. We review health documents of the parents to make sure the parents don't show signs of breed-specific hereditary diseases. And we provide our detailed review on health and lineage.
We – dog owners – want healthy and happy dogs. And we want breeders to start fulfilling this demand and serve us – their customers – respectfully. To view litters that match our criteria visit our Puppy for sale page. New litters are posted every month.
Resources: