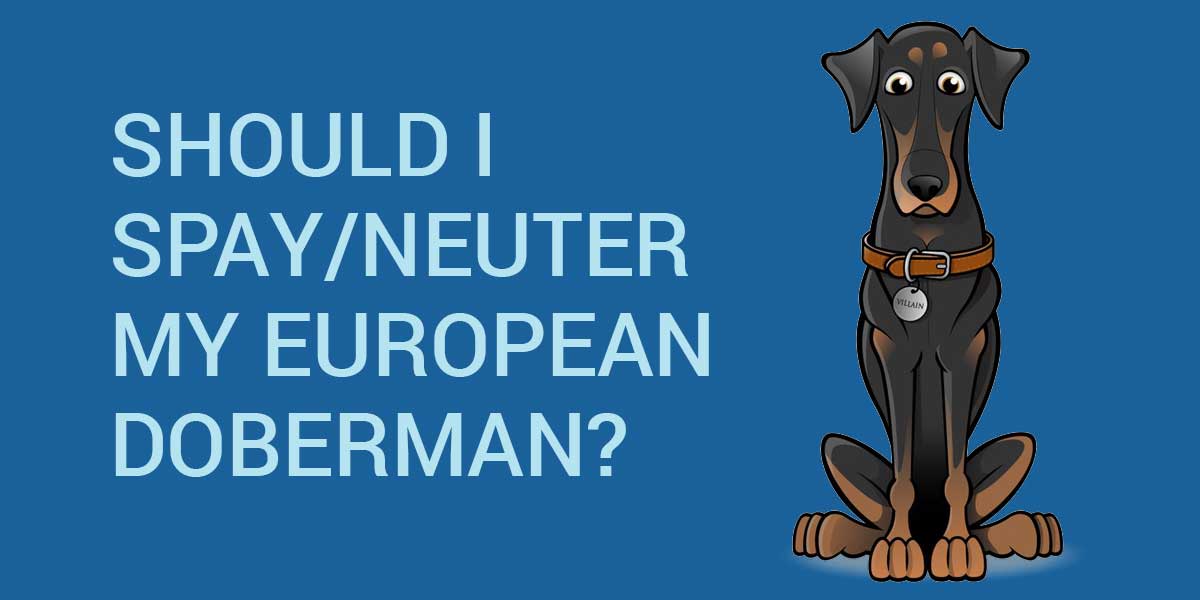 I occasionally receive a question from my USA readers – should I spay-neuter my European Doberman? This question is specific to the US, because in Europe intact dogs are the norm.
1. The reason behind mass spay/neuter campaign in the US.
You won't see abandoned dogs running in packs on the streets in the US. This is due to a network of shelters, veterinarians, and volunteers that work with lost and surrendered dogs. But catching and re-homing dogs is only one side of the problem. If dogs breed uncontrollably it becomes a vicious cycle.
US Humane Society was formed somewhere in mid 1950s aiming to resolve animal welfare issues. Spaying and neutering was a quick and easy solution to control unwanted pet population. But how do you make this a long-term solution? You change public perception of the problem.
US is great at influencing public decision and judgement. It has been done many times in the US history. We know that lobbyist were able to push tobacco products to the public and have doctors promote cigarettes to their patients as "it's good for your lungs". We know that high-fructose corn syrup is widely used in food because it is subsidized by USDA (department of Agriculture), despite the fact it is the reason why US population is heavily affected with diabetes. And the list goes on.
So when you wonder "should I spay-neuter my European doberman" you need to understand the truth about it.
2. The importance of sex hormones.
Spaying and neutering would be absolutely appropriate thing to do, if severe health consequences wouldn't be ignored or lied about. There are so many articles out there promoting the false benefits of spaying/neutering as if nature created sex hormones by mistake.
Sex hormones develop later in life (during puberty) in humans and in dogs. Of course dogs are not humans, but the purpose and function of the most of the organs are the same. And like in humans, hormones in dogs travel through the blood stream and carry messages between organs and cells. Hormones are secreted by glands in the endocrine system to help the body stay balanced and function optimally. In humans, the loss of sex hormones is associated with aging. We know that in aging humans replacing lost sex hormones restores feelings of well-being, reverse muscle and bone loss along with other functions that are associated with aging. 
Below is a video posted by a well-known veterinarian in the US (and perhaps worldwide). This video explains her personal discovery of the affects of spaying/neutering dogs and health issues associated with it. If you ask yourself a question "should I spay-neuter my european doberman", you must watch this video.
I have 2 adopted pets and both suffer from health issues directly connected to neutering. What are the odds? Well, perhaps spaying/neutering health issues are more common than we think.
Endocrine issues are among most common. A spayed/neutered dog is more likely to develop hypothyroidism. And this is what happened to my adopted Chihuahua-terrier mix. He was a young dog when we adopted him. Very energetic, happy, playful, adventurous, with silky white coat. A couple of years later he developed hypothyroidism. His skin was covered with bacterial infections and pimples, his coat became dull and hard and dirty-looking, he was always grumpy. He is on prescribed medication twice a day for life. And even though his lab test results show "normal" thyroid levels he never fully bounced back. He has unpredictable mood swings, hairless tail, and constant shedding. And it is required by law to do an annual thyroid test, otherwise the vet can't prescribe the medication. Which is an unnecessary expense.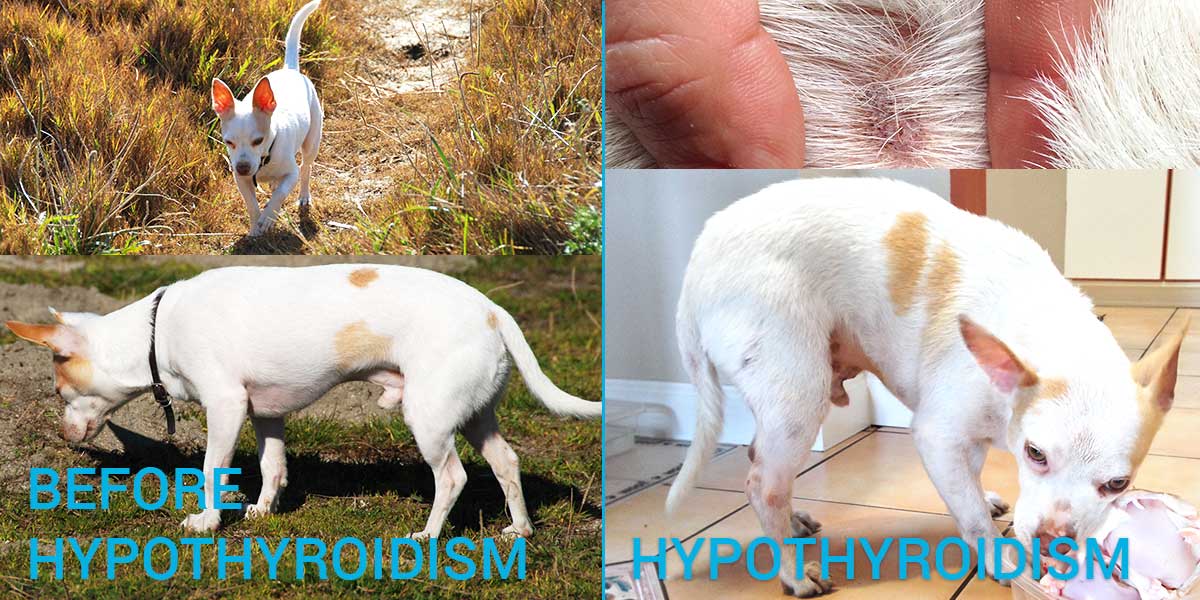 Another common issue is connected to urinary tract functions. Research has shown that females with ovaries live longer than spayed females. Neutered males have greater risk of prostate cancer and bladder cells carcinoma. And spayed/neutered pets have a greater risk of urinary incontinence.
From my experience I also want to add there is a risk of a surgical mistake. My second adopted pet is an outdoor (barn) cat. He also was neutered at a young age by the shelter veterinarian. Turns out he was damaged during the surgery and can no longer control his bladder. He "spills" urine whenever he sits or sleeps. The condition is irreversible. He is on 2 expensive medications twice a day that help him empty his bladder. We have to spray our yard regularly to eliminate the odor, and the cat has to wear a diaper every time he wants our company.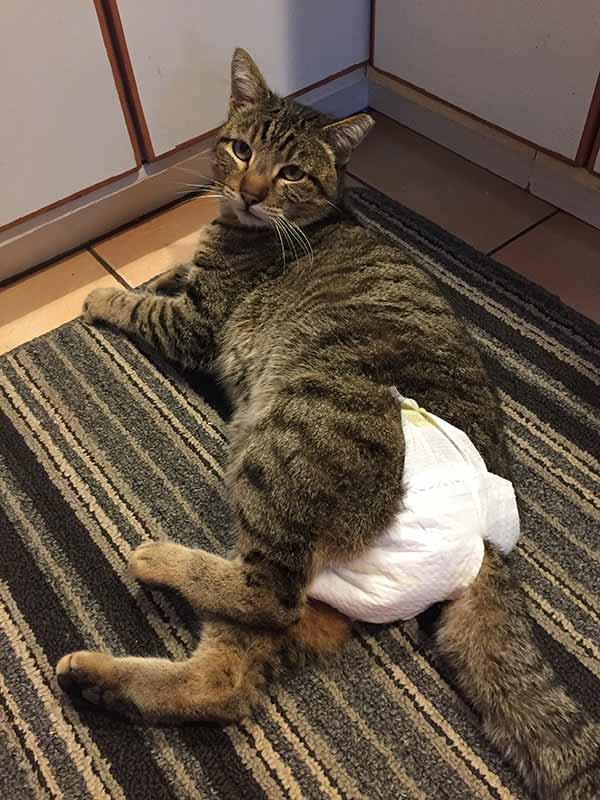 Hip and elbow issues are also very common. If you watched the video above, you've learned that sex hormones also contribute to proper formation of joint tissues. Tore ligaments is a common problem and that is what happened to my nextdoor neighbor's Labrador puppy. He was neutered at a very early age and by the time he was 1 year old he tore the ligament on his knee and needed a surgery.
Obesity in pets is another common problem associated with early spaying and neutering.
3. Healthy dobermans are rare.
Dobermans have very fragile health due to genetic issues (read more about Doberman genetic diseases). About 70% of dobermans are affected with a deadly DCM gene and should not be bred. Deliberately exposing this breed for more health risks, especially while it's not necessary, will more likely increase your expenses in medical care. And in case it turns out your dog is free from breed specific genetic diseases at the mature age – it would be a great and needed contribution to the doberman population to breed such a dog. Also, there are very little well bred and genetically healthy European Dobermans in the US and Canada. So, if your dog is healthy – he/she might be in demand by reputable breeders.
4. Are you responsible for your dog?
If you are reading this blog – you are doing research. And very likely, you will invest the time and the money to import a dog from Europe. The fact that you are willing to learn and take the time to obtain the knowledge already differentiates you from people who impulsively buy a puppy on the internet and more likely be irresponsible.
Most of the dogs you will meet in the parks and on the streets are already spayed and neutered. Chances of your dog coming across an intact female is very low. Not to mention the female has to be in heat and during fertile period.
Responsible dog owners train and exercise their dogs, and don't leave them unattended. If you want to be among responsible dog owners – join a local Schutzhund/IPO club or AKC club. Most dogs at the AKC clubs are intact, and ALL dogs at Schutzhund/IPO clubs are intact. Spaying or neutering does not substitute for owner's laziness and dog's lack of exercise or training. If you need help controlling your European Doberman's high energy try engaging your dog in training and games (read my article Outdoor games to play with your dog).
If you wonder will your intact dog be able to play with spayed/neutered dogs. The answer is "absolutely yes". If your dog is friendly and meets another friendly dog they are more likely to play. Dogs don't discriminate against being fixed or not. The only advise I have for owners with intact males is that a neutered male dog doesn't smell like a male to an intact dog. Your intact dog will consider most of the neutered dogs as females. It doesn't mean he will mount them (it's a bad behavior that owners should correct). A proper intact "gentlemen" dog will lick and sniff female dogs more intensely than he would a male dog. And if it's a neutered male – he won't like such attention and might growl. Your dog most likely will ignore the growl because he thinks it's a feisty female and she is acknowledging him. In such cases – take your dog away before the situation escalates.
5. Myths about spaying/neutering.
Neutering/spaying WILL NOT:
make your dog calm,
stop him from humping other dogs;
eliminate aggression.
European Dobermans have high energy level and great temperament. If you want a calmer dog – European Doberman is not for you. They are very confident with people and other dogs and more likely to be friendly with friendly strangers.
Humping is a bad habit that should be corrected. I've seen neutered dogs trying to hump puppies or owner's leg. It's bad manners.
If your dog is aggressive – it's most likely behavioral. Find out the reasons behind the aggression and work with your dog (and perhaps a trainer) to correct it.
Spayed/neutered dogs don't loose their natural protective instincts. Same as hunting dogs don't stop chasing wild life, and retrievers don't stop retrieving – neutered or not. However, spayed/neutered dogs considered unfit to do police work and related competitive sports. If your dog has a talent for competitive sport and you find it interesting – keep your dog intact.
6. If you must do it.
Do it after your dog is fully developed. If possible, find a vet, who can perform sterilization procedure instead of spaying/neutering. This will keep the hormones, but makes your dog unable to conceive (like vasectomy in men).
Resources:
Neutering health risks.
Neutering-spaying effects.
The unspoken truth about spaying and neutering.